Man Ray was born Emmanuel Radnitzky in 1890 in Philadelphia, Pennsylvania. He began to work in 1911 as a painter and sculptor. He was very associated with many european artists at the time, especially those in France. In 1915 he turned to photography as a way of expressing himself. Two years later he became the co-founder of the New York Dada group with his friend Marcel Duchamp. He tried to bring the dada movement to full life but found little success in New York so he moved to Montparnasse in Paris, France. He fell in love with french singer Kiki who became one of his main models for many of his photographs.

During the next 20 years, he refined his art and revolutionized the art of photography in general. James Joyce and Jean Cocteau are some of the most notable people to pose before his camera.

The photo above is called "Le Violon d'Ingres" and was taken in 1924. The photo depicts the back of a woman with cello f-holes painted on.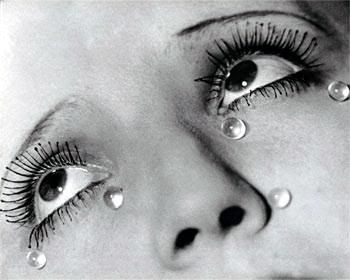 In 1925, Man Ray was one of the first to be included in the Surrealist exhibit at the Gallerie Pierre in Paris. He was included with works by Picasso, Jean Arp, Max Ernst, Joan Miro, and Andre Masson.

Man Ray returned to the states in Los Angeles, California but settled back in Paris for the end of his life. He died in 1976.

"Noir et blanch" - 1936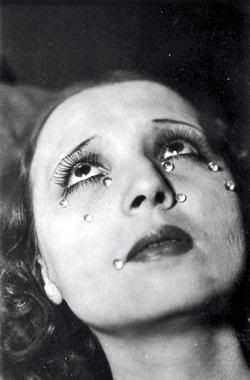 "Woman with Long Hair" - 1929, "Tears" (full) - 1924