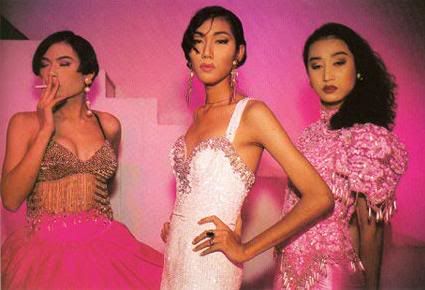 Toon, So, and Yo go onstage, Bangkok, 1992

"

My desire is to preserve the sense of people's lives, to endow them with the strength and beauty I see in them. I want the people in my pictures to stare back

."
-

Nan Goldin


Nan Goldin is a true original and an inspiration for a whole new kind of photorgraphy.
Her view on the world has had an impact on film, design, fashion, and other art. An obvious example is teh "heroin chic" look which Goldin did not intentionally invent or inspire. Goldin actually thinks of using that particular look to sell clothes as "reprehensible and evil." The photos she takes of people aren't intended to show them in a different light or be purposefully grunge style but instead she wanted to show the world real people acting in ways real people do. She often focuses on over-looked or less accepted people and activities.

It is hard to talk about Goldin without mentioning her sister. Goldin's sister killed herself at age 18 in 1965. Goldin's work is a sort of result of the attitudes caused by this loss. Goldin shows evertyhing and does not hold back in her photos. People are exposed and life is matter of fact. She captures the wonderful and also the uncomfortable moments. When one glances through her amazing volume of work it is as if one is glancing into the privacy of a thousand other lives. People being people. Humanity exposed. Asthetics are thrown out and replaced by feeling and depth. There is so much in each photo.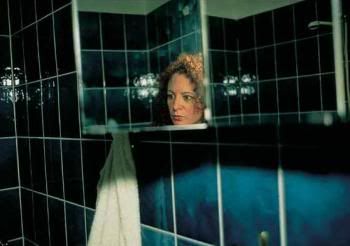 Self portrait in blue bathroom, Berlin, 1991
Käthe in the tub, Berlin, Germany, 1984
Käthe is a musician Goldin met while in Germany. Many of Goldin's photos have mirrors and women reflected in them; it was one of her most common themes.
James backstage at Karl Lagerfeld Show, Paris, 1995
Honda brothers in cherry blossom storm, Tokyo, Japan, 1994
Goldin's work is well-known throughout Japan due to her extensive visits in the 90's. This particular photo has a terrific sense of movement due to the cherry blossom petals blowing through the air.